4140 West Pioneer Parkway,
Arlington, Texas 76013
(817) 274-9233
Mike & Amy Wade
Owners
Mike is owner and funeral director in charge of Wade Family Funeral Homes. He purchased Wade Funeral Home in Hubbard, TX in 1985, and built Wade Funeral Home in Arlington, TX in 2003. He personally oversees all areas of operation.
Blake Wade
Managing Funeral Director
Blake oversees operations as the manager at Wade Funeral Home in Arlington, Texas. As manager, Blake firmly believes in the importance of guiding and educating families during such a difficult time for them, and he appreciates the trust that the families of Arlington have placed in him.
Blake is a sixth-generation Arlington resident, and he cares deeply about the Arlington community, giving back through his volunteer work with the Kiwanis Club, Young Men for Arlington, and the Arlington Margarita Society. He is also a member of the Arlington Chamber of Commerce.
When Blake is not busy showing his compassion through Wade Family Funeral Home and his outreach, he's spending time with his family, hunting, and the outdoors. Blake is also a member of Life Church and is a proud father and husband. Together, Blake and his wife Maddie are blessed with two children, Harper and Holden.
Plan Ahead
Planning ahead may seem like an overwhelming task, but our knowledgeable advisor can quickly and easily walk you through the process. To start planning today, click here or call (817) 274-9233.
Constructed 2003
Beautiful, clean setting
Comfortable gathering rooms and furnishings
Modern technology
Hospitality lounge
Private area for families wishing to be present for cremation
Welcoming Reception Center
Located adjacent to the chapel
Easily reached small venue for informal reception after the service
Comfortable setting where friends and family can reminisce and begin the healing process
Variety of inexpensive catering and floral options available
Get Driving Directions
Enter your address below (please format Address, City, ST ZIP)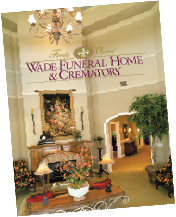 Receive Free Planning Information