4140 West Pioneer Parkway,
Arlington, Texas 76013
(817) 274-9233
Mike Wade
Owner
Mike is owner and funeral director in charge of Wade Family Funeral Homes. He purchased Wade Funeral Home in Hubbard, TX in 1985, and built Wade Funeral Home in Arlington, TX in 2003. He personally oversees all areas of operation. Mike is a graduate of Arlington High School and attended The University of Texas at Arlington. He is a licensed funeral director and embalmer, having graduated from the Dallas Institute of Mortuary Science. Mike actively supports the community and is a member of the Arlington Kiwanis Club, downtown Rotary Club, Arlington Historical Society, Arlington High School Alumni Association, Texas Funeral Directors Association, National Funeral Directors Association, and Toy Train Collector's Association. Mike and Amy are members of First Baptist Church of Arlington. They have 3 children and 8 grandchildren.
mike@wadefamilyfuneralhome.com
Amy Wade
Owner
Amy Wade is the marketing director for Wade Funeral Home. She is very active with the community, and currently serves on the Arlington ISD Education Foundation Board as well as the Arlington Chamber of Commerce Board of Directors. She serves on numerous committees of organizations in Arlington. She is a member of First Baptist Church of Arlington. Mike and Amy have 3 children and 8 grandchildren.
amy@wadefamilyfuneralhome.com
Blake Wade
Managing Funeral Director
Blake has been employed with Wade Family Funeral Home since 2011. He and his wife, Maddie have 2 children, Harper and Holden. They are members of First Baptist Church of Arlington.
blake@wadefamilyfuneralhome.com
Plan Ahead
Planning ahead may seem like an overwhelming task, but our knowledgeable advisor can quickly and easily walk you through the process. To start planning today, click here or call (817) 274-9233.
Constructed 2003
Beautiful, clean setting
Comfortable gathering rooms and furnishings
Modern technology
Hospitality lounge
Private area for families wishing to be present for cremation
Welcoming Reception Center
Located adjacent to the chapel
Easily reached small venue for informal reception after the service
Comfortable setting where friends and family can reminisce and begin the healing process
Variety of inexpensive catering and floral options available
Get Driving Directions
Enter your address below (please format Address, City, ST ZIP)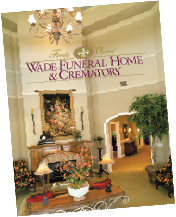 Receive Free Planning Information