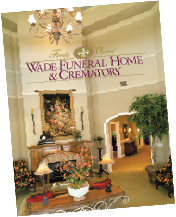 Receive Free Planning Information
Wade Funeral Home & Crematory is the only locally owned and family operated funeral home in Arlington.  This means you receive professional care from a family dedicated to your community and that is focused on you.
Wade Funeral Home is dedicated to providing services to the families of Central Texas with care and compassion.
For over 30 years the Hubbard, Dawson and Mount Calm communities and surrounding area have trusted Wade Funeral Home with helping them plan the celebrations of lives lived.
Expert in Veteran Services
Customer Review
Robin J
From beginning to end Wade Funeral Home did a wonderful job. My mom died at home. When they picked her up they had her in this beautiful blanket, combed her hair back (looked as if she was sleeping, considering how I had found her). I went up there the next afternoon. They were comforting and helpful with helping me make decisions. They gave me all the pricing up front and exactly what would need to be paid and when. They helped with calling the insurance companies, emailing and faxing any paper work that was needed. They also helped with contacting the Creek Indian Burial Social Services. That was less things and calls I had to deal with. Their building is beautiful. Their staff is excellent and I can't say this enough, they were very helpful during this time of grief for me and my family. I would highly recommend them A+ service! Thank you Wade Funeral Home for making this experience good.