We Are Family Owned
You may wonder why local, family ownership matters. The reason it does is our pure dedication to care of this community during the most trying times in life, the loss of a loved one.
You have choices, but no other provider in this community can match our experience and personal commitment to our friends, neighbors and all the families in the communities we serve.
Wade Funeral Home & Crematory is the only locally owned and family operated service provider in Arlington. All the others are owned by out of town corporations whose focus is mainly on the bottom line. Our focus is on your care and your satisfaction with the services we provide.
Rather than finding careers in funeral service, Mike and Amy Wade built this business from the ground up and designed it for your comfort. Having grown up in an environment of service to others, the next generation of the Wade family, Keely Wade Gillham and Blake Wade, bring an experience and understanding of the faiths, traditions and people of Arlington the and surrounding areas that cannot be matched by other providers whose staff come and go over the years.
Your support of our business is appreciated and we pay that back to our communities with donations of time and money to many causes.
Thank you.
Mike, Amy, Keely, and Blake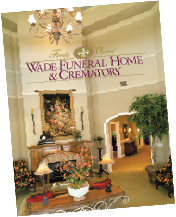 Receive Free Planning Information