Our Online Urn Store
Wade Funeral Home & Crematory has a private, online urn store where you can browse and purchase beautiful urns from home. Our urns are high quality and reasonably priced. They come in a variety of materials from woods, metals, ceramic, marble, and environmentally friendly options.
Disclaimer: By clicking this link you will be leaving the WadeFamilyFuneralHome.com website.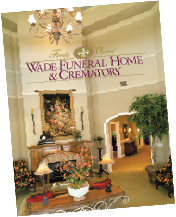 Receive Free Planning Information